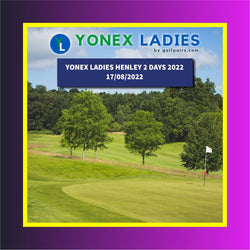 Yonex Ladies Henley 2 Days 2022
SKU: 39525983256628
Thank you for all those that participated at Yonex Ladies Henley 2 Days.To find the results and photos from this event please visit the link below:
Date
17/08/2022
Course
> Sonning - 17/08/2022
> Harleyford - 18/08/2022
Location
Post Code: Day 1: RG4 6GJ - Day 2:SL7 2SP
GET DIRECTIONS: > Day 1 - > Day 2
Region: > Bucks - > Berks
Format

Better Ball Pairs Stableford.
WHS Handicap 85% Allowance.
No Handicap Limit.

Participation

Official WHS/CONGU Handicap
iGolf subscribers welcome
Golf Shake Handicap - Prizes dependent on Golfshake entries
No Handicap - No prizes but still a great value day out on a top course

Prizes


Per Event




1st - 3rd

At each event we will have over £1000 prizes including merchandise/vouchers for at minimum the top three pairs, plus additional on course prizes for things like Nearest the Pin.

Value


Per Event

Professionally hosted and organized
Live scoring
Yonex gift
Winners across the two days who will go to Oxfordshire
Coffee and Bacon Rolls before day 1 - lunch after day 2
Compete against other lady golfers in the biggest amateur ladies golf tour in England.
Join the Yonex ladies golf tour and win your share of a minimum of £1000 worth of prizes at each and every event.
Yonex will be present to show you their latest clubs, and we have other sponsors waiting to get involved.
Should your pair be victorious on the day, not only will you take the prize for first place you'll also be joining us at The Yonex Ladies Bedfordshire 2022 for our finals day in October.
A great two days were had by all at the LPGT Monmouth Challenge. I would certainly enter again. Well done to Alex and the team.
By Sian John
I would like to say how much we all enjoyed the event, the courses selected were wonderful, the food was also excellent. It all ran like clockwork.
By Sue Andow
I just wanted to thank you for a splendid couple of days in Oxford. It was our first time playing in this event and we both thoroughly enjoyed it.
By Ann Bunyard
Frequently Asked Questions are listed below. However if you can't find the answer to your question PLEASE CLICK HERE for a full break down. If you still can't find what you are looking for please or need more information you can call us on 01386 291000 or email orders@golfpairs.com
All our events are run in line with the new World Handicapping System. To qualify for prizes, competitors must have a WHS handicap index which will be used to determine playing handicap for the competition.
Further information can be found here

We have standard the normal options including debit, credit and AMEX cards. Bank transfer, Paypal and Apple/Google pay :)

Flexi Pay
For the 2022 season we're giving all new and existing customers the option of spreading payments out.
You can secure your booking by paying £25 per person per event and then pay the rest off flexibly at no extra charge. We require the balance to be cleared 60 days before the event starts.

If this is something of interest please contact support via orders@golfpairs.com - Please note this option is currently only available by request and can not be found on the payment screen.

Deposits
We also offer a deposit option which has proven extremely successful over the years. It's pretty simple, you just pay £25 per person per event and the remaining balance is paid in full no later than 30 days before the first event.

If this is an option you would like to use, when you are at the checkout simply follow the steps below.

1. On the checkout fill out your billing information
2. Click continue to payment
3. Scroll down and click Bank Transfer and follow the on screen instructions.

Tee times are released 1-2 weeks before competition. Once they are released we will notify you by email. If you wish to advise us of a tee time preference you must do this in the participation form you are emailed ahead of the competition.

All golfers of any ability with any handicap are welcome to play in our events. In order to win prizes in the WHS bracket there is a handicap limit of 28 for ladies and 24 for men. We allow higher handicaps to enter but to be eligible for prizes you must play off the index 24(m) 28(l)

Yes up to four weeks before a competition you can pay a deposit of £25 per person to secure your place. This can be done by going through the checkout as normal and on the final page selecting Bank Deposit. Once you have selected bank deposit and reserved your place, please then follow the instructions that are presented to you. This will involve you contacting your bank either via online banking, telephone or branch and setting us up as a payee. Bank details are always here https://golfpairs.com/pay if you lose the confirmation email. Use your order number as reference.

We have food and drinks at a select few events. If this event is one of them it will be written in the 'value' section at the top page.

Yes you can - we welcome single golfer and we will pair you up. We had runners up in 2020 single golfers at an event who had never met! Just join up and you never know if you can't persuade a partner. In our 2021 events we had two singles paired up on the day win one of our events.

Yes, we accept iGolf Handicaps across our competitions. Please note that to be eligible for prizes there may be a minimum requirement for formal competition rounds, which applies equally to iGolf and golf club handicaps. You can find this information on this page by scrolling up.

Launched by England Golf in July 2021, iGolf provides non-club members with access to obtain an official WHS Handicap Index. For just £40 a year, it also gives you the ability to track your performances, measure your progress and message your friends and likeminded golfers, all through the MyEG app. Because it also provides an equitable way of playing the game for those who aren't club members, it means all iGolf subscribers can enter Golf Pairs events and compete too. To find out more about iGolf, click here.

We require for 2022 all prize winners to have played 6 formal competition rounds in the 12 months prior to the event day. A formal competition (used to be known as Handicap Qualifiers) is managed and administered by an "Authorized Association" (either a golf club or other organization which is licensed by one of the golf unions to run formal competitions). These scores are submitted to the central WHS database by the AA in question, rather than by the individual.

A General Play round (formerly supplementary score) counts when calculating handicap index, but are not competition rounds, since they are not administered by an Authorized Association.

The full details can be found in the CONGU handbook below.
https://www.congu.co.uk/wp-content/uploads/WHSDocs/Handicapping-Advice.pdf

Yes you can give us a call on 01386 291000 Monday - Friday 9am - 5pm.
Alternatively you can email us on orders@golfpairs.com

Yes you can. If you book as a group we will assume you wish to play together unless you tell us you wish to play consecutively. If you have booked separately you must tell us in the registration form.