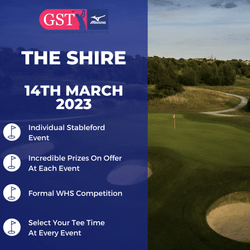 Thank you for all those that participated at The Shire Singles.To find the results and photos from this event please visit the Golf Pairs blog by clicking the link below:
Date
14/03/2023 - SINGLES
Course
Championship
Location
Post Code: EN5 4RE > GET DIRECTIONS
Region: Hertfordshire
Format

Individual Stableford
WHS Handicap Index - 95% Allowance
No Handicap Limit.
Results posted automatically to WHS

Participation

WHS Handicap Index Required - iGolf Welcome
Bracket 1: 5.4 and Under
Bracket 2: 5.5 - 12.4
Bracket 3: 12.5 - 18.4
Bracket 4: 18.5 and above




Brackets may be adjusted depending on event participation to ensure even competitor distribution.

Prizes


Per Event




1st - 3rd

WHS Handicap Qualifying events
Low Price
Quality Courses
£1000 Prizes
Bags and Vouchers
Gross prize awarded
Up to 4 handicap brackets (depending on attendees)

Value


Per Event

Professionally hosted and organised
Live Scoring
NTP
M/F longest drive
THE ONLY GOLF COURSE DESIGNED BY SEVE BALLESTEROS IN THE UK
Rated London's #1 golf experience, The Shire London is unique.
Our main aim is to set your pulse racing with our spectacular Seve Ballesteros golf course – forever destined to be the iconic Spaniard's one and only challenge to golfers in the UK.
But, just like Seve, we also believe in removing golf's traditional barriers wherever possible. We have no clubhouse dress-code, and our status as the home of The Golf Trust charity often creates opportunities for us to host golf events which show the sport at its most inclusive.
Most of all, you're among friends and fellow golf-lovers at The Shire London. Our facilities are smart, stylish and comprehensive, and we are one of the capital city's leading venues for corporate golf. Yet our welcome is warm, genuine, unpretentious and friendly.
Six par threes, six par fours, six par fives. No two consecutive holes of the same par, on either nine. Links holes, stadium-style Tour golf holes, and traditional British parkland holes, all immaculately presented.
The Ballesteros Masters Course has many unforgettable holes, often challenging you with a shot over water, and none more so than our 18th – where our course architect literally stamped his initial on our beautiful, serene part of England with an S-shaped lake, the ultimate challenge on one of the country's most demanding closing holes.
Our Singles Tour Returns in 2023
After a successful introduction in 2022, we are delighted to announce that our Singles Tour returns bigger and better than ever!
By popular demand, we will be taking our 2023 Singles Tour to some of the top golfing destinations in the UK including The Shire, Woodhall Spa and The Oxfordshire. We will also be offering the ability to select your exact tee time for all 2023 Singles Tour Events at the time of booking.
As with last year, every one of Singles Tour Events will be a formal handicap qualifying event with your scores submitted directly by our Events Team to WHS. This means our Singles Tour Events are the ideal way to lower your handicap or gain the required number of formal rounds to be eligible for Pairs Events Prizes.
We are still offering the chance to win incredible prizes across up to 4 handicap brackets (number of brackets dependant on number of entries). These prizes include:
Mizuno Golf Bag
4 ball at Event Host
Vouchers for future Mizuno Pairs and Singles Events
If you are keen on playing some incredible courses this year as a single golfer, then our 2023 Singles Tour Events are perfect for you!
For the 2023 season all Golf Pairs singles events are formal handicap qualifying events with scores submitted to WHS.
If you have recently acquired an igolf handicap from England Golf - then why not book into one of our single series events? All our pairs events require golfers to have played 6 competitions in 12 months to compete for prizes - so why not get signed up now for some of these - and get ahead of the curve.
If you are keen on playing some new courses this year as a single golfer, than look no further than our handicap qualifying competitions which are running throughout the year.
Win some prizes, play a great value golf course, and your scores will be submitted for you back to WHS for handicap purposes. We have 4 brackets running for different handicaps and all are welcome - so come and enjoy.
Open to ALL - we welcome all genders and capabilities - please book now and join the fun!
We have chosen the stableford format to ensure pace of play is maintained - the rule of this competition is that you must pick up if you are not scoring.
We will be playing typically in fourballs and we welcome groups.
Great opportunity to play a world renowned course at a reasonable price. Well organised day with decent prizes. Will look at doing more events in the future.
By Ross
I have played in a couple of these now and everything they do is well organised, the communication is always brilliant and the staff polite and courteous. I have always been made to feel like a valued customer and could not recommend their events highly enough.
By Bruce
Great day and even better course, loved it, well run, good company, a chance to play top quality courses in a comp at good rates, hallamshire thankyou great course fast greens and a very scenic track
By Chris
Frequently Asked Questions are listed below. However if you can't find the answer to your question PLEASE CLICK HERE for a full break down. If you still can't find what you are looking for please or need more information you can call us on 01386 291000 or email orders@golfpairs.com
The format for our Singles events are Stableford.

Unless clearly stated in the event page It's not something we generally offer. Based on demand we are working with our clubs to potentially offer this in the future.

In 2023 we are introducing the opportunity to select your tee at the time of booking. Simply select your tee time for the drop down menu on the booking page.

No, you don't. The Golf Pairs Club Membership is for additional perks. It's not required to play in this event.

For our singles events we do not have a requirement for qualifying rounds, as we know many people will use these events to build up their qualifying rounds. The prize table will be smaller than at our Pairs Events and there are no requirements to be eligible for prizes.

For our singles events we do not have a requirement for qualifying rounds, as we know many people will use these events to build up their qualifying rounds. The prize table will be smaller than at our Pairs Events and there are no requirements to be eligible for prizes.

All are welcome to participate, handicap or not..

We make all necessary adjustments based on the course rating. So if a red tee has a higher course rating than a white tee those playing from red tees will have handicaps adjusted accordingly in line with WHS rules on handicapping

Professionals can play in our competitions. To be fair to plus amateurs, they must play from the lowest of scratch, their handicap before turning pro, or the lowest handicap in the field, whichever is lowest.

Yes, as these are individual competitions we will be submitting all scorecards after the event to count towards your qualifying rounds.

There is no handicap limit at MGST events. There are 4 prize brackets for handicap indexes.

Less than 5.4
5.5-12.4
12.5-18.4
18.5 and above

We have standard the normal options including debit, credit and AMEX cards. Bank transfer, Paypal and Apple/Google pay :)

Flexi Pay
For the 2023 season we're giving all new and existing customers the option of spreading payments out.
You can secure your booking by paying £25 per person per event and then pay the rest off flexibly at no extra charge. We require the balance to be cleared 60 days before the event starts.

If this is something of interest please contact support via orders@golfpairs.com - Please note this option is currently only available by request and can not be found on the payment screen.

Deposits
We also offer a deposit option which has proven extremely successful over the years. It's pretty simple, you just pay £25 per person per event and the remaining balance is paid in full no later than 60 days before the first event.

If this is an option you would like to use, when you are at the checkout simply follow the steps below.

1. On the checkout fill out your billing information
2. Click continue to payment
3. Scroll down and click Bank Transfer and follow the on screen instructions.

Yes you can give us a call on 01386 291000 Monday - Friday 9am - 5pm alternatively you can email us on orders@golfpairs.com