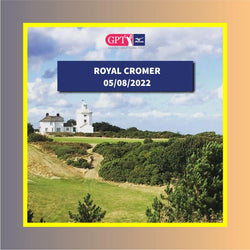 Thank you for all those that participated at Royal Cromer.To find the results and photos from this event please visit the link below:
Date
05/08/2022
Course
Championship
Location
Post Code: NR27 0JH > GET DIRECTIONS
Region: Norfolk
Format

Better Ball Pairs Stableford.
WHS Handicap Index 85% Allowance.
Handicap limit - 28 ladies. 24 men. We allow higher handicaps to enter but to be eligible for prizes you must play off the index 24(m) 28(l).

Participation

Official WHS/CONGU Handicap - main leaderboard
iGolf subscribers welcome - main leaderboard
Golf Shake Handicap - Prizes dependent on Golfshake entries
No Handicap - No prizes but still a great value day out on a top course

Prizes


Per Event




1st - 6th

Winning Pair - at every event will win a holiday for 2 to a top European destination.

Prizes for other placed pairs will be Mizuno merchandise, places at Golf Pairs events and other vouchers.
Hole in 1 prize - Golf Pairs vouchers, Stewart golf trolley and Mizuno prizes.
Additional on course prizes.

Value


Per Event

Gift or entry to our special custom fit irons competition
Professionally hosted and organized
Live scoring
Par 3 Competition £10 per pair entry - Finals day for winners
A break at a 1 of the 3 resorts below - YOU CHOOSE which one!
Also those making the top 5 on each of our 2 order of merit leaderboards will also win this this magical prize.
Fairplay Golf & Spa in Spain - 3 nights and 2 rounds of golf
Hacienda del Alamo Golf & Spa Resort in Spain - 3 nights and 2 rounds of golf
Dolce Campo Real Golf Resort and Spa - 3 nights stay with unlimited golf at Campo Real
3 ways to win
Finish first place at any Golf Pairs event in 2022.
Finish in the top 5 pairs in the 2022 order of merit.
Finish in the top 5 in the 2022 'best 4 scores combined count' order of merit.
No memberships or finals days are needed. We're keeping it nice and simple, 100 events and 2 order of merit leaderboards, that's 220 individuals winning our biggest ever grand prize.
Should you be one of the winning pairs, you'll be heading off on to a top European golfing destination, subject to availability.
To be eligible to win prizes on the main leaderboard competitors must have played 6 formal competition rounds such as club medals (home or away) in the 12 months leading up to an event.

more information?

Handicaps of all prize winners are verified by the central CDH system.
All players who wish to participate for the main prize will be asked to show a valid form of photo ID on the day of the event, such as a driving license or passport.
In addition to the main prize, all events this year will offer placed pairs down to a minimum of 6th some fantastic prizes.
2nd place - A free pair at any future Golf Pairs event.
3rd place - 2x Mizuno golf bags
4th to 10th place - Mizuno golf gear and merchandise, partner, Golf Pairs and golf course vouchers.
As well as first place winning an overseas holiday, 2nd down to a minimum of 6th will also some win great prizes including, free 4 balls at top venues, entry to future events, Mizuno and Golf Pairs merchandise.
At every event all golfers will have the opportunity to win a major hole in 1 prize.

If you do not have an official WHS/CONGU handicap then you can either participate for a bit of fun, or on the Golfshake leaderboard where we offer smaller prizes such as vouchers and merchandise. If you're not familiar with Golfshake then check them out, it's a great alternative for those who can't meet Official WHS/CONGU criteria.
For your information
Format - Better Ball Pairs Stableford Competition played off 85% handicap.
Handicaps of all placed prize winners are verified via central CDH system.
Concept is great and everyone was very friendly. Not my best round but really enjoyed the day as a whole. The event was really well ran and the free goody bag was a nice touch. My first golfpairs event But wont be my last.
By Tom
Congrats on a well run and well organised day out. Really enjoyed the occasion, the weather, the course and loved the live scoring system. Such a great idea - despite not hitting the dizzy heights.
By Brian Coakley
I would like to congratulate all concerned with a fantastic days golf .The course was everything we expected great venue, set up and conditions were superb. We Would like to thank all involved with today's event from initial contact and enrolment/signing in to getting out there on the course.
By Richard Walker
Frequently Asked Questions are listed below. However if you can't find the answer to your question PLEASE CLICK HERE for a full break down. If you still can't find what you are looking for please or need more information you can call us on 01386 291000 or email orders@golfpairs.com
All our events are run in line with the new World Handicapping System. To qualify for prizes, competitors must have a WHS handicap index which will be used to determine playing handicap for the competition.
Further information can be found here

An individual is only eligible to win 1 main prize a year from winning events. Should you win a second event you will be switched with whoever finishes in second place and they will take the first place prize. Vouchers for winning events are non-transferable, non-refundable and can only be used by the winners. What happens if we win an event and qualify via the order of merit leaderboard? Should you win an event and qualify via order of merit, you will then be able to either transfer one pair to recipients of your choice or attend for a second time. An individual is only eligible to win 1 order of merit prize.

Tee times are released 1-2 weeks before competition. Once they are released we will notify you by email. If you wish to advise us of a tee time preference you must do this in the participation form you are emailed ahead of the competition.

We have standard the normal options including debit, credit and AMEX cards. Bank transfer, Paypal and Apple/Google pay :)

Flexi Pay
For the 2022 season we're giving all new and existing customers the option of spreading payments out.
You can secure your booking by paying £25 per person per event and then pay the rest off flexibly at no extra charge. We require the balance to be cleared 60 days before the event starts.

If this is something of interest please contact support via orders@golfpairs.com - Please note this option is currently only available by request and can not be found on the payment screen.

Deposits
We also offer a deposit option which has proven extremely successful over the years. It's pretty simple, you just pay £25 per person per event and the remaining balance is paid in full no later than 30 days before the first event.

If this is an option you would like to use, when you are at the checkout simply follow the steps below.

1. On the checkout fill out your billing information
2. Click continue to payment
3. Scroll down and click Bank Transfer and follow the on screen instructions.

All golfers of any ability with any handicap are welcome to play in our events. In order to win prizes in the WHS bracket there is a handicap limit of 28 for ladies and 24 for men. We allow higher handicaps to enter but to be eligible for prizes you must play off the index 24(m) 28(l)

Yes up to four weeks before a competition you can pay a deposit of £25 per person to secure your place. This can be done by going through the checkout as normal and on the final page selecting Bank Deposit. Once you have selected bank deposit and reserved your place, please then follow the instructions that are presented to you. This will involve you contacting your bank either via online banking, telephone or branch and setting us up as a payee. Bank details are always here https://golfpairs.com/pay if you lose the confirmation email. Use your order number as reference.

Ladies, and mixed pairs can definitely participate, as we are an inclusive tour that welcomes all participants. For safety purposes juniors must be 14+ and have an official handicap and be accompanied by an adult. Regarding courtesy shots, we make all necessary adjustments based on the SSS of the course being played. So if a red tee has a higher SSS than a white tee, those playing from red tees would have handicaps adjusted accordingly.

We have food and drinks at a select few events. If this event is one of them it will be written in the 'value' section at the top page.

Yes you can - we welcome single golfer and we will pair you up. We had runners up in 2020 single golfers at an event who had never met! Just join up and you never know if you can't persuade a partner. In our 2021 events we had two singles paired up on the day win one of our events.

Yes, we accept iGolf Handicaps across our competitions. Please note that to be eligible for prizes there may be a minimum requirement for formal competition rounds, which applies equally to iGolf and golf club handicaps. You can find this information on this page by scrolling up.

Launched by England Golf in July 2021, iGolf provides non-club members with access to obtain an official WHS Handicap Index. For just £40 a year, it also gives you the ability to track your performances, measure your progress and message your friends and likeminded golfers, all through the MyEG app. Because it also provides an equitable way of playing the game for those who aren't club members, it means all iGolf subscribers can enter Golf Pairs events and compete too. To find out more about iGolf, click here.

We require for 2022 all prize winners to have played 6 formal competition rounds in the 12 months prior to the event day. A formal competition (used to be known as Handicap Qualifiers) is managed and administered by an "Authorized Association" (either a golf club or other organization which is licensed by one of the golf unions to run formal competitions). These scores are submitted to the central WHS database by the AA in question, rather than by the individual.

A General Play round (formerly supplementary score) counts when calculating handicap index, but are not competition rounds, since they are not administered by an Authorized Association.

The full details can be found in the CONGU handbook below.
https://www.congu.co.uk/wp-content/uploads/WHSDocs/Handicapping-Advice.pdf

Although we are recognised as an Authorized Association by the golf unions of England, Wales and Scotland - and we are using Golf Genius which is a licensed system of all three - we cannot submit better ball scores to the database at the present time - so our events do NOT count as formal competitions.
As soon as the unions work out how to deal with better ball scores, we will be submitting them to the database.

Yes you can give us a call on 01386 291000 Monday - Friday 9am - 5pm.
Alternatively you can email us on orders@golfpairs.com

Yes you can. If you book as a group we will assume you wish to play together unless you tell us you wish to play consecutively. If you have booked separately you must tell us in the registration form.