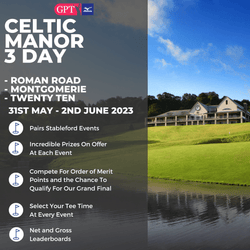 Thank you for all those that participated at Celtic Manor 3 Days.To find the results and photos from this event please visit the link below:
Rates are based on entry level accommodation room types within the property, per room per night.
The Resort Hotel
Single Occupancy Bed & Breakfast

per room £154.17

Double/Twin Occupancy Bed & Breakfast

per room £175.00

Deluxe Room Supplement

per room £35.00

Family Room Supplement

per room £58.33

(Based on 2 Adults, 2 Children up to the age of 13 sharing one room)

Signature Room Supplement

per room £58.33

Deluxe Suite Supplement

per room £191.67

Presidential Suite Supplement

per room £750.00
The Manor House
Single Occupancy Bed & Breakfast

per room £137.50

Double/Twin Occupancy Bed & Breakfast

per room £158.30
Booking Process
Guests can book a room online at celtic-manor.com using the following block code prompt on the 'Book Online' tab on the homepage: MIZU310523
At the time of booking, guests will be required to make a full non-refundable and non-transferable prepayment of the bedroom(s).
Following payment, guests will receive a confirmation of their reservation.
Alternatively, guests can call 01633 410262 to book a room from the allocation.
Date
31/05/2023 - 02/06/2023 - PREMIUM
Course
- Roman Road
- Montgomerie
- Twenty Ten
On all multi-day events, days 2 onwards will be drawn. Customers in groups will be split up on the final day if in a position to compete for overall prizes but can tee off at similar times for travel purposes.
Location
Post Code: NP18 1HQ > GET DIRECTIONS
Region: Wales
Format

Better Ball Pairs Stableford.
WHS Handicap Index 85% Allowance.
Handicap limit - 28 ladies. 24 men. We allow higher handicaps to enter but to be eligible for prizes you must play off the index 24(m) 28(l).

Participation

Official WHS/CONGU Handicap - main leaderboard
iGolf subscribers welcome - main leaderboard
Golf Shake Handicap - Prizes dependent on Golfshake entries
No Handicap - No prizes but still a great value day out on a top course

Prizes


Per Event




1st - 6th

10k Hole in One Prize
A sleeve of golf balls for all participants.
£2,000 Prizes
Finals Day
Vouchers and Goods
Gross prize awarded
Par 3 Competition

Value


Per Event

Professionally hosted and organised
Live scoring
NTP ( every hole )
M/F longest drive
With three championship golf courses, you are spoilt for choice at the home of the 2010 Ryder Cup.
Twenty Ten - Built to stage The 2010 Ryder Cup, the first course to be built specifically for golf's greatest team tournament, The Twenty Ten measures a robust 7,493 yards off the back tees and has a par of 71.
With water hazards on half of its holes, the course has six signature holes and presents many more memorable tests and risk-and-reward dilemmas. One of the features of the spectacular course is its variety with many of the earlier holes having a links-like feel with long rough and greenside swales, before the middle section reveals the full extent of the lake-lined challenge.Roman Road - The very first of the Resort's courses, Roman Road opened in 1995 and was ranked 'the top inland course in Wales' by Golf Monthly Magazine.
This par 70 course overlooks the Severn Estuary with views across to Somerset and Devon. Designed by Robert Trent Jones Senior, it is named after the old Via Julia Roman highway that ran through its fairways.
Venue for numerous European Tour and Senior Tour events, this challenging course features some long open fairways but also a number of twists and turns through trees and across streams
Montgomerie - Offering a spectacular par 69 challenge, the legendary Colin Montgomerie has called on all his Ryder Cup experience to create a course with many exciting tests of strategy.
Montgomerie has also drawn on his roots in Scottish links golf to create a traditional feel enhanced by deep and penal pot bunkers.
Spectacular views abound with dramatic tee shots over valleys and breathtaking downhill shots. Host course for various professional and high ranking amateur events.
The Tour is BACK!!
Following clear feedback from customers, we bring you an 2 round finals day with your overnight stay included at a top UK resort to determine our Golf Pairs Champions 2023.
Extra Handicap Diligence
Exceptional Score In-House Cuts.
All Prize Winners Fully Vetted.
Trialing Aggregate Score Competitions.
Photo ID Checks.
6 competitions in 12 months for events.
10 comps in the Season for Finals.
Tee time choice with varied pricing.
Select your tee time and make your travel plans easy - once you purchase your selected tee time that's yours!
Seeking a bargain?
Tee time prices differ depending on times - typically later times cost less - so book your bargains now rather than waiting!
Golf Pairs Club Membership
Huge benefits including discounted events and match play, discounted events and reduced admin fees for changes to your bookings - it'll pay to join for £50 per annum NOW! Club Membership
Gross Prizes
Every event carries a gross leaderboard, and gross OOMs with prizes to match the main leaderboard up for grabs - so all you low handicappers who think you can't win events - now is your chance to show your mettle!
Brand new order of merit
Qualify for our Grand Finals at the stunning Marriott Forest of Arden in March 2024. At every pairs event, you will gain Order of Merit Points which will get added to your total for the season.There will be a record eight Order of Merit Leaderboards operating in 2023 - giving you all a whole load of chances to qualify.
Leaderboard 1 - Best Three Scores Count - 5 Pairs
Leaderboard 2 - Best Six Scores Count - 5 Pairs
Leaderboard 3 - Best Overall Scores Count - 5 Pairs
Leaderboard 4 - Best Three Gross Scores Count - 5 Pairs
Leaderboard 5 - Best Six Gross Scores Count - 5 Pairs
Leaderboard 6 - Played most events - 5 Pairs
Leaderboard 7 - Booked most places at events - 5 Pairs
Leaderboard 8 - Wildcards - 5 Pairs

New for 2023
We have booked the superb championship venue Forest of Arden for a 2 round final event, where you'll have a chance to experience some hospitality courtesy of the golf pairs team, as well as playing off to crown our champions. The only way to qualify is through Order of Merit - so get yourselves booked to as many events as you can and secure your place now!


Grand Final - Forest of Arden 27/28 March 2024: 27th March
Buffet Breakfast on arrival
Round 1 Shotgun on the Arden course
Gala Dinner
Room for the night based on 2 sharing 28th March
Hotel breakfast
Round 2 shotgun on the Arden course
Sandwiches and prize giving
Join one of our premium events for a chance to win prizes and Order of Merit Points to Qualify for our end of season grand final!
This is a premium event which means you'll get extra order of merit points for competing as well as the following benefits
Professionally Hosted and Organized
£10,000 Hole in One Prize
Free sleeve of Mizuno Golf Balls (or alternative prize should golf balls fall out of stock)
£2,000 Prizes including vouchers and goodies.
Golf Genius Live Scoring
Enhanced Order of merit points - 120 Points for Competing - 100-5 Points for Top 20 Placed Pairs.

Order of Merit Points are added to the individuals in the pair rather than the pair itself.
To be eligible to win prizes on the main leaderboard competitors must meet the following requirements:
Have played 6 formal competition rounds such as club medals or our Mizuno Singles Tour Events in the 12 months leading up to an event.
Handicaps of all prize winners are verified by the central CDH system.
If you do not have an official WHS/CONGU handicap then you can either participate for a bit of fun, or on the Golfshake leaderboard where offer smaller prizes such as vouchers and merchandise.
If you're not familiar with Golfshake then check them out, it's a great alternative for those who can't meet Official WHS/CONGU criteria.
Great opportunity to play a world renowned course at a reasonable price. Well organised day with decent prizes. Will look at doing more events in the future.
By Ross
I have played in a couple of these now and everything they do is well organised, the communication is always brilliant and the staff polite and courteous. I have always been made to feel like a valued customer and could not recommend their events highly enough.
By Bruce
Great day and even better course, loved it, well run, good company, a chance to play top quality courses in a comp at good rates, hallamshire thankyou great course fast greens and a very scenic track
By Chris
Frequently Asked Questions are listed below. However if you can't find the answer to your question PLEASE CLICK HERE for a full break down. If you still can't find what you are looking for please or need more information you can call us on 01386 291000 or email orders@golfpairs.com
All our events are better ball stableford competitions played off 85% handicap. This means each golfer plays their own ball, and the better score from the two on each hole counts towards the team's total.

We have WHS access and check all handicaps of winning players. We ask all golfers to take photo ID with them on the day so we can link name and photo. Any exceedingly good scores, we will carry out a full investigation including contacting home clubs directly to check on the status of handicaps. For full details our exceptional score policy click here.

We have in place mandatory pick up when not scoring and penalties given for not keeping up with the group in front. We have marshalls on the course and a starter managing the first tee, but we rely on every golfer to act responsibly and be ready to play.

No, you don't. The Golf Pairs Club Membership is for additional perks. It's not required to play in this event.

We require for 2023 all prize winners to have played 6 formal competition rounds in the 12 months prior to the event day. 'A formal competition (used to be known as Handicap Qualifiers) is managed and administered by an "Authorised Association" (either a golf club or other organisation which is licensed by one of the golf unions to run formal competitions). These scores are submitted to the central WHS database by the AA in question, rather than by the individual. A General Play round (formerly supplementary score) counts when calculating handicap index, but are not competition rounds, since they are not administered by an Authorised Association.' The full details can be found in the CONGU handbook below.
https://www.congu.co.uk/wp-content/uploads/WHSDocs/Handicapping-Advice.pdf

All our events are run in line with the new World Handicapping System. To qualify for prizes, competitors must have a WHS handicap index which will be used to determine playing handicap for the competition.
Further information can be found here

An individual is only eligible to win 1 main prize a year from winning events. Should you win a second event you will be switched with whoever finishes in second place and they will take the first place prize. Vouchers for winning events are non-transferable, non-refundable and can only be used by the winners. What happens if we win an event and qualify via the order of merit leaderboard? Should you win an event and qualify via order of merit, you will then be able to either transfer one pair to recipients of your choice or attend for a second time. An individual is only eligible to win 1 order of merit prize.

In 2023 we are introducing the opportunity to select your tee at the time of booking. Simply select your tee time for the drop down menu on the booking page.

We have standard options including debit, credit and AMEX cards. Bank transfer, Paypal and Apple/Google pay.

Flexi Pay
For the 2023 season we're giving all new and existing customers the option of spreading payments out.
You can secure your booking by paying £25 per person per event and then pay the rest off flexibly at no extra charge. We require the balance to be cleared 60 days before the event starts.

If this is something of interest please contact support via orders@golfpairs.com - Please note this option is currently only available by request and can not be found on the payment screen.

Deposits
We also offer a deposit option which has proven extremely successful over the years. It's pretty simple, you just pay £25 per person per event and the remaining balance is paid in full no later than 60 days before the first event.

If this is an option you would like to use, when you are at the checkout simply follow the steps below.

1. On the checkout fill out your billing information
2. Click continue to payment
3. Scroll down and click Bank Transfer and follow the on screen instructions.

All golfers of any ability with any handicap are welcome to play in our events. In order to win prizes in the WHS bracket there is a handicap limit of 28 for ladies and 24 for men. We allow higher handicaps to enter but to be eligible for prizes you must play off the index 24(m) 28(l)

Yes up to four weeks before a competition you can pay a deposit of £25 per person to secure your place. This can be done by going through the checkout as normal and on the final page selecting Bank Deposit. Once you have selected bank deposit and reserved your place, please then follow the instructions that are presented to you. This will involve you contacting your bank either via online banking, telephone or branch and setting us up as a payee. Bank details are always here https://golfpairs.com/pay if you lose the confirmation email. Use your order number as reference.

Ladies, and mixed pairs can definitely participate, as we are an inclusive tour that welcomes all participants. For safety purposes juniors must be 14+ and have an official handicap and be accompanied by an adult. Regarding courtesy shots, we make all necessary adjustments based on the SSS of the course being played. So if a red tee has a higher SSS than a white tee, those playing from red tees would have handicaps adjusted accordingly.

Unless clearly stated in the event page It's not something we generally offer. Based on demand we are working with our clubs to potentially offer this in the future.

Yes you can - we welcome single golfer and we will pair you up. We had runners up in 2020 single golfers at an event who had never met! Just join up and you never know if you can't persuade a partner. In our 2021 events we had two singles paired up on the day win one of our events.

'Yes we accept a Handicap Index through the iGolf platform across our competitions.'

All are welcome to participate, handicap or not. However in order to win main prizes both you and your partner must have official CONGU handicaps. Although not official WHS handicaps we accept Golf Shake Handicaps. If you have a Golfshake Handicap (free) you can participate in all side competitions but you will not be able to play for the placed prizes. Should we have enough Golfshake Handicap participants you will also have a separate leaderboard and prizes will also be available.

We make all necessary adjustments based on the course rating. So if a red tee has a higher course rating than a white tee those playing from red tees will have handicaps adjusted accordingly in line with WHS rules on handicapping.

Professionals can play in our competitions. To be fair to plus amateurs, they must play from the lowest of scratch, their handicap before turning pro, or the lowest handicap in the field, whichever is lowest.

Although we are recognised as an Authorized Association by the golf unions of England, Wales and Scotland - and we are using Golf Genius which is a licensed system of all three - we cannot submit better ball scores to the database at the present time - so our events do NOT count as formal competitions. As soon as the unions work out how to deal with better ball scores, we will be submitting them to the database.

Launched by England Golf in July 2021, iGolf provides non-club members with access to obtain an official WHS Handicap Index. For just £40 a year, it also gives you the ability to track your performances, measure your progress and message your friends and likeminded golfers, all through the MyEG app. Because it also provides an equitable way of playing the game for those who aren't club members, it means all iGolf subscribers can enter Golf Pairs events and compete too. To find out more about iGolf, click here.

We require for 2023 all prize winners to have played 6 formal competition rounds in the 12 months prior to the event day. A formal competition (used to be known as Handicap Qualifiers) is managed and administered by an "Authorized Association" (either a golf club or other organization which is licensed by one of the golf unions to run formal competitions). These scores are submitted to the central WHS database by the AA in question, rather than by the individual.

A General Play round (formerly supplementary score) counts when calculating handicap index, but are not competition rounds, since they are not administered by an Authorized Association.

The full details can be found in the CONGU handbook below.
https://www.congu.co.uk/wp-content/uploads/WHSDocs/Handicapping-Advice.pdf

Although we are recognised as an Authorized Association by the golf unions of England, Wales and Scotland - and we are using Golf Genius which is a licensed system of all three - we cannot submit better ball scores to the database at the present time - so our events do NOT count as formal competitions.
As soon as the unions work out how to deal with better ball scores, we will be submitting them to the database.

Yes you can give us a call on 01386 291000 Monday - Friday 9am - 5pm.
Alternatively you can email us on orders@golfpairs.com

Yes you can. If you book as a group we will assume you wish to play together unless you tell us you wish to play consecutively. If you have booked separately you must tell us in the registration form.

Yes you can give us a call on 01386 291000 Monday - Friday 9am - 5pm alternatively you can email us on orders@golfpairs.com